Optic Fusion's Tacoma colocation facility is located in the historic Perkins building. This location serves as the Network Operations Center (NOC), providing monitoring and surveillance for all of Optic Fusion's facilities, equipment and customer colocation areas.
Advantages of Optic Fusion's Tacoma Colocation
100% Uptime Guarantee.
Highly diverse and fully redundant 10 GigE network that is IPv6 ready.
Safe and secure carrier-class datacenter—SSAE-16 SOC 1 Type 1 compliant.
Multiple Border Gateway Protocol (BGP) IP sources.
24/7 technicians who provide the best customer care and technical support.
Custom full and half cabinets, open racks, cages and suites are available.
24/7 monitoring and surveillance of the facility, equipment, customer colocation area.
Request a quote today or contact us if you have any questions.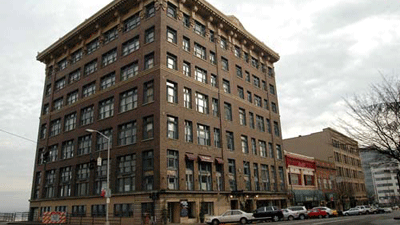 Optic Fusion strives to provide our customers with world-class local colocation solutions that bolster a fully redundant network with 100% uptime. Specials are available, which provide inexpensive colo hosting options in Seattle. If you would like more information on the different packages we provide, please request a quote today or feel free to call us at (253) 274-1726.